With so much to see and do in Paris, it's hard to narrow it down to the essentials while still having an experience that's a good balance of everything the city has to offer.
We've selected the crème de la crème of the city—some places are well known, others off the beaten path—to help you plan a long weekend, a longer trip, or even your next few visits. Most of all, the sites listed here make up le vrai Paris, and are sure to provide a memorable—and authentic—experience.
Discover Degas, Renoir, and Manet at the Musée d'Orsay
Housed under the soaring roof of one of Paris's grand old Beaux-Arts railway stations, the recently renovated galleries of the Musée d'Orsay contain the world's largest collection of Impressionist masterpieces by the likes of Cézanne, Monet, Manet, Van Gogh, Degas, Gaugin, and many others. With two excellent cafés and a magnificent restaurant original to the train station, dining is a breeze and guided tours of the museum highlights in English are available every day (see the museum website for times and scheduling). There's also a fabulous bookstore for stocking up on gifts.
Plan Your Hotel
Contemplate the Thinker at the Musée Rodin
Once the great sculptor's studio, this stately 18th-century mansion is one of Paris's most beautiful museums and contains more than 6,000 of Rodin's sculptures, including his great masterpieces The Thinker, The Kiss, The Burghers of Calais, and The Gates of Hell, along with 8,000 drawings and gouaches. The lovely grounds of the Musée Rodin, complete with a fountain, rose gardens, and a pleasant outdoor café make for a delightful afternoon outdoors. The museum also hosts special exhibitions and a cycle of exhibits on contemporary works. Following three years of renovations, the museum fully re-opened in November 2015.
Explore the Palais-Royal Gardens
Far from the noise and bustle, these serene formal gardens and elegant boutiques tucked behind the walls of a 17th-century palace are a tranquil haven and one of Paris's best-kept secrets. Once a royal residence (Louis XIV spent part of his unhappy childhood here), the hushed arcades, fountain and manicured gardens of the Palais-Royal are now home to world-class perfumers, antiquaires and designer boutiques—including Rick Owens, Stella McCartney, and Pierre Hardy—and two of France's legendary glove-makers (Maison Fabre and Lavabre Cadet). Enjoy lunch or teatime outdoors or splurge like Zola, Proust, and Colette did at the exquisite Grand Véfour restaurant, a historic monument, or right in the garden at the one-Michelin-star Restaurant du Palais Royal. Afterwards, head over to the Louvre or the Jardin des Tuilieries, a few minutes walk away.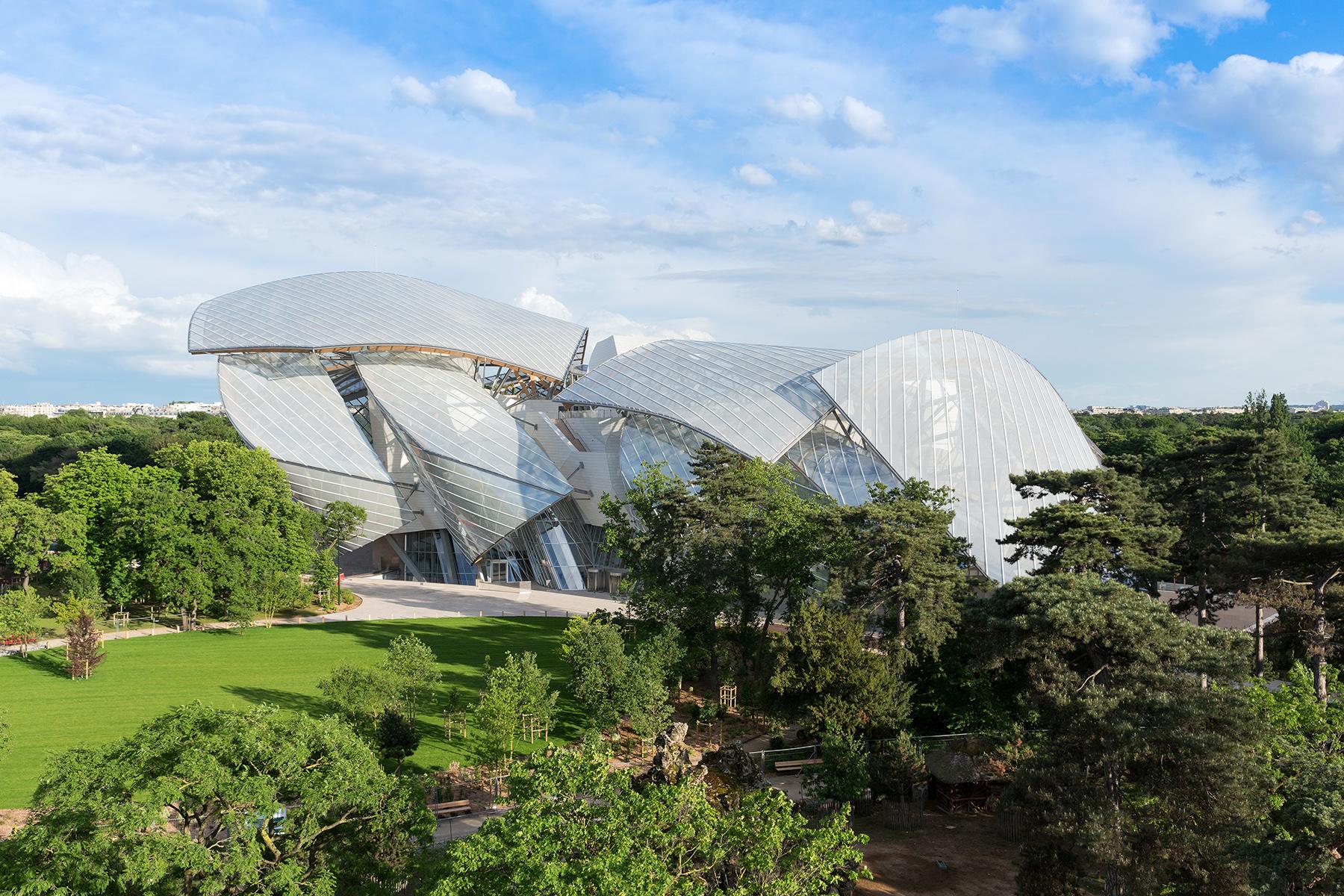 Visit the Fondation Louis Vuitton
Rising up out of the Bois de Boulogne like an imperious ocean liner with billowing glass sails, Frank Gehry's contemporary art museum and cultural center is the most captivating addition to the Parisian skyline since the unveiling of the Centre Pompidou in 1977. Commissioned by Bernard Arnault, chairman and CEO of luxury-goods conglomerate LVMH, it houses Arnault's substantial private collection, including pieces by Pierre Huyghe, Gerhard Richter, Thomas Schütte, Ellsworth Kelly, Taryn Simon, Sarah Morris, and Christian Boltanski, among others. The Fondation Louis Vuitton also hosts important temporary exhibitions, like recent surveys of contemporary Chinese and African art and fabulous installations by the likes of Daniel Buren and Olafur Eliasson.
People Watch at the Luxembourg Gardens
Nothing says Paris like the Luxembourg Gardens. Bordered by Saint-Germain-des-Prés and the Latin Quarter, these lovely gardens are beloved by Parisians longing to bask on a lawn chair in the sunshine or enjoy an impromptu picnic. Children of all ages race their sailboats in the basin behind the Sénat, romp in the enclosed children's' playground, take in a puppet show, or ride the city's oldest merry-go-round. A favorite circuit for joggers and amblers, the many paths are also perfect for an afternoon stroll past espaliered orchards and the old apiary, where beekeeping is taught and the honey is sold in the fall. Don't miss the excellent art exhibits at the renowned Musée de Luxembourg.
Walk the Narrow Streets of the Ile Saint-Louis
Just behind the Notre-Dame gardens, the Pont Saint-Louis pedestrian bridge leads to the atmospheric streets and lively shopping of the Ile Saint-Louis. A perfect walk for flaneurs just taking in the majestic facades and quiet courtyards of beautiful 17th-century mansions, this peaceful island is truly an oasis. Enjoy traditional Parisian fare at the Brasserie de l'Isle Saint-Louis or sample one of the 90 scrumptious flavors of handmade, all-natural ice creams and sorbets—in flavors like wild strawberry, noisette, rum raisin, and white chocolate—at Bertillon, Paris's most famous ice-cream maker.
See the Seine on the Bateau Mouche
There's nothing quite like seeing Paris from a boat on the Seine—and there's no lack of boats to choose from. See Paris's graceful bridges up close along with the city's most famous landmarks on a relaxing 2 to 4 hour boat ride. The bateaux mouches offer everything from a gourmet meal, a flute of champagne or just sightseeing with commentary. Another option: the Bateau Bus operates continuously from 10am until 9:30pm every 20 minutes from eight stops around Paris. For 15€ you can hop on or off wherever and whenever you like all day long. Stops include the Musée d'Orsay, Louvre, Eiffel Tour, Champs Elysées, and Saint-Germain-des-Prés.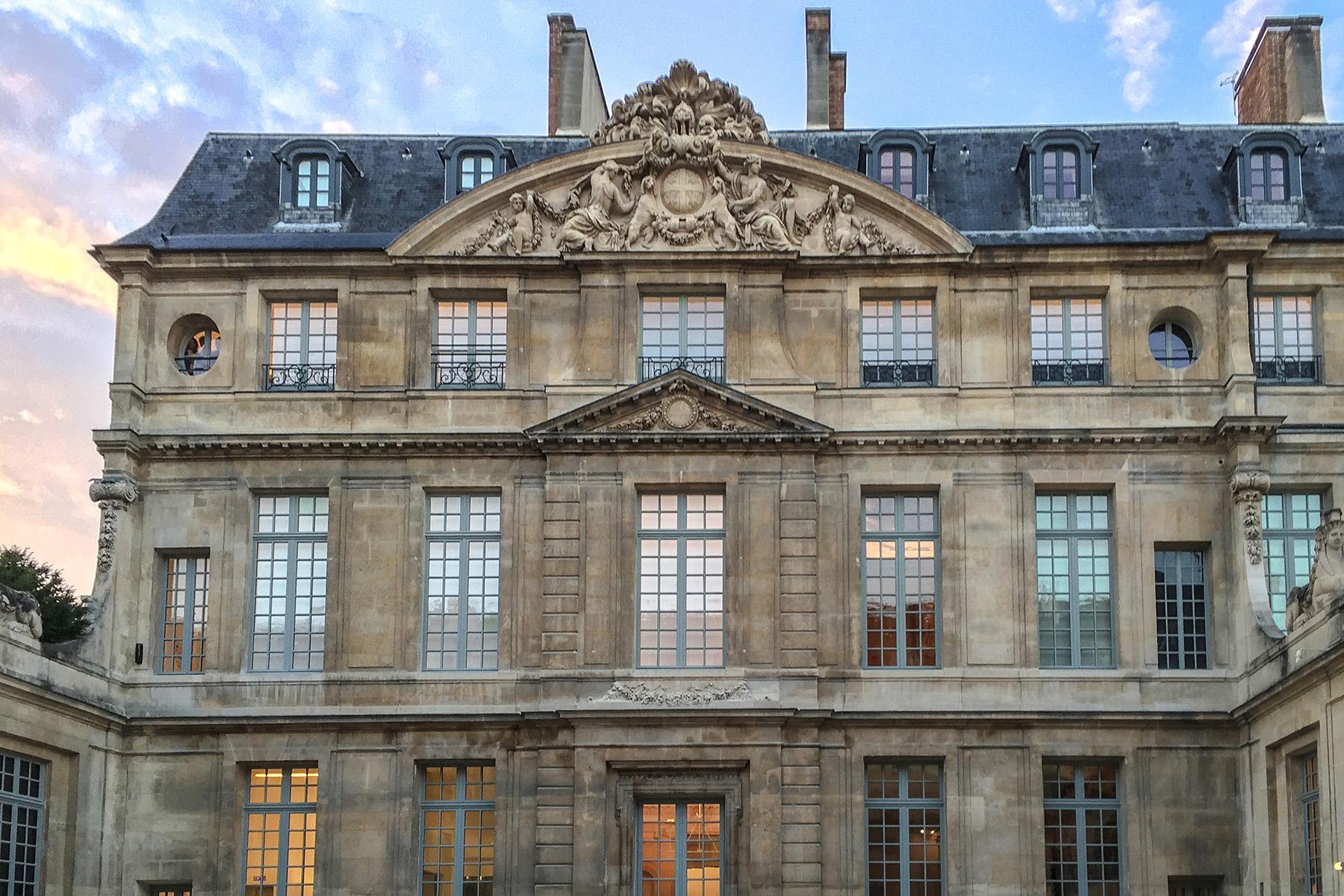 Critique Cubism at the Musée Picasso
This immensely popular museum rose phoenix-like in late 2014, when it finally reopened after an ambitious (and often controversial) five-year makeover that cost an estimated €52 million. Home to the world's largest public collection of Picasso's inimitable oeuvre, it now covers almost 54,000 square feet in two buildings: the regal 17th-century Hôtel Salé and a sprawling new structure in the back garden that's dedicated to temporary exhibitions. Diego Giacometti's exclusively designed furnishings in the former are an added bonus.
Be Awed by the World's Greatest Art Collection at the Louvre
The most recognized symbol of Paris is the Tour Eiffel, but the ultimate traveler's prize is the Louvre. This is the world's greatest art museum—and the largest, with 675,000 square feet of works from almost every civilization on earth. The three most popular pieces here are, of course, the Mona Lisa, the Venus de Milo, and Winged Victory. Beyond these must-sees, your best bet is to focus on whatever interests you the most—and don't despair about getting lost, for you're bound to stumble on something memorable.
Related: 7 Hotels Near the Louvre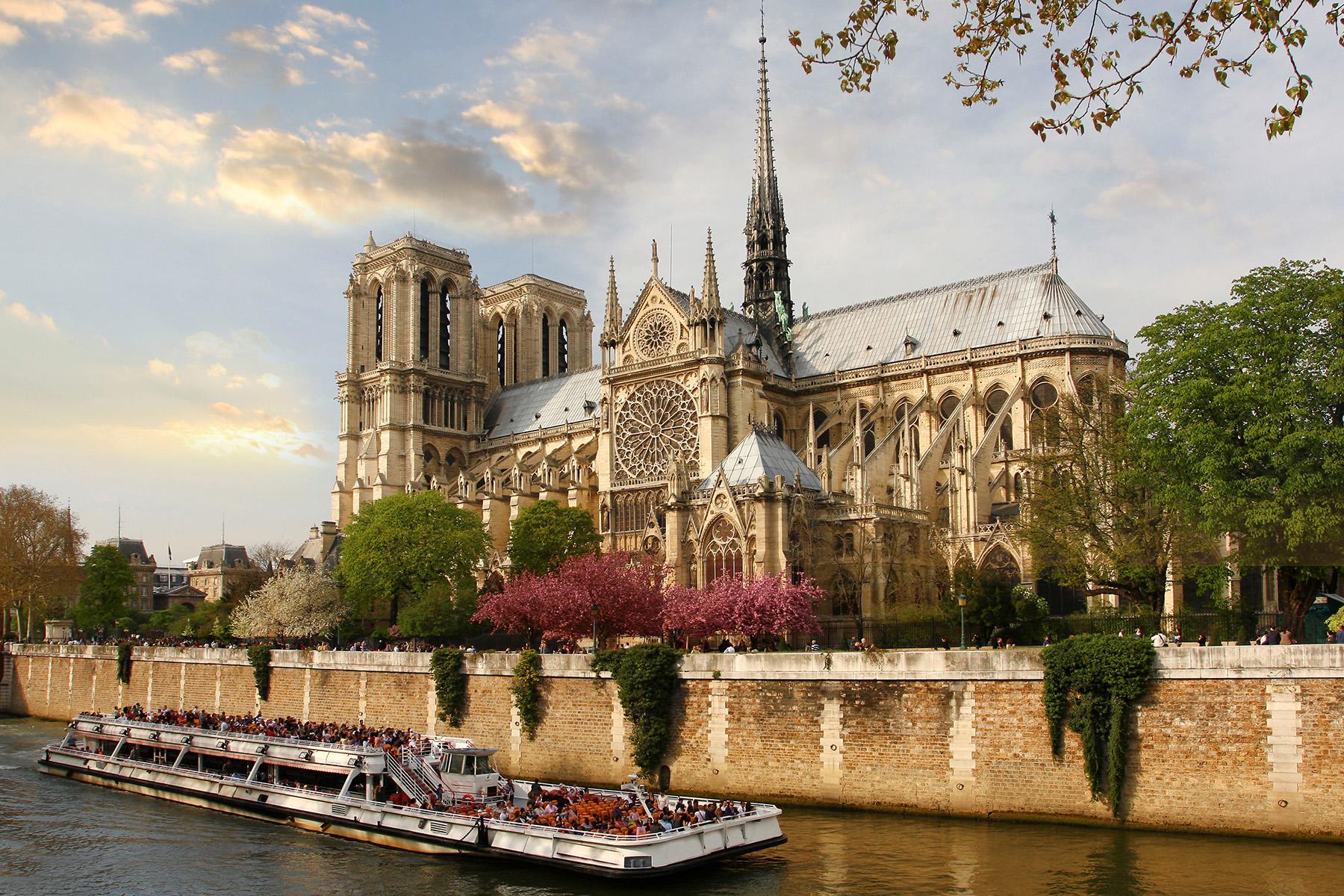 Visit the Gothic Notre Dame de Paris
Looming above Place du Parvis on the Ile de la Cité, the Cathédrale de Notre Dame is the symbolic heart of Paris and, for many, of France itself. Napoléon was crowned here, and kings and queens exchanged marriage vows before its altar. There's a multitude of things worth seeing inside the Gothic cathedral, especially its famous windows. But the exterior architectural details and the unforgettable views of Paris, framed by stone gargoyles, from the top of the south tower are major highlights too. Begun in 1163, completed in 1345, badly damaged during the Revolution, and restored by architect Eugène Viollet-le-Duc in the 19th century, Notre-Dame may not be France's oldest or largest cathedral, but in beauty and architectural harmony it has few peers—as you can see by studying the facade from the square in front. Admission to the cathedral is free, but entrance to the tower (to the left as you're facing the building) and the archeological crypt, dating back to the earliest Parisians, are well worth the small admission price.
The City of Paris is in the process of raising funds—a rumored 150 million euros—for a much-needed 20-year renovation that will begin in 2019.
Shop 'til You Drop on Rue Saint-Honoré
If designer shopping and elite French brand names set your heart aflutter, get thee to the rue Saint-Honoré. The favorite haunt of fashionistas the world over, here you'll rub elbows with everyone from Japanese DJs to Saudi Princesses. Whether it's the ultra-hip (Nous, Balenciaga, Comme des Garçons), French status labels (Goyard, Hermès, Chanel, Chloé, Louis Vuitton), or something a bit less pricy but every bit as stylish as the big boys (Zara, & Other Stories) you're sure to find something to love here. Beginning around the Palais Royal—itself an upscale shopping mecca—and ending at the Elysée Palace near the Champs-Élysées, it's an afternoon prowl to satisfy the most indefatigable shopper.
Hunt for Treasure at the Marché aux Puces de Saint-Ouen
A world unto itself, the 150-year-old market is the world's largest and most famous flea market. Within the Marché aux Puces's labyrinthine alleys and stalls can be found every imaginable curiosity and treasure at a price for every pocketbook—from vintage couture and antique luggage to gilded mirrors and burnished silver, there is truly something for everyone. Even if you don't love antiques, you'll still adore the market's ambiance, totally unique to Paris. The Village Vintage offers the best of mid-century modern fashions and furnishings, and all of Paris is flocking to Philippe Stark's stylish Ma Cocotte restaurant.
Take in the View From the Eiffel Tower
The Eiffel Tower is to Paris what the Statue of Liberty is to New York and what Big Ben is to London: the ultimate civic icon. French engineer Gustave Eiffel—already famous for his viaducts and bridges—spent two years working to erect this iconic monument for the World Exhibition of 1889. Today, it is most breathtaking at night, when every girder is traced in a sparkling cascade of lights originally conceived to celebrate the turn of the millennium. The glittering light show was so popular that the 20,000 lights were reinstalled for permanent use in 2003. The tower does its electric dance for five minutes every hour on the hour starting at dusk and lasting until 1am.
Now surrounded by a protective glass wall, be sure to allow plenty of time for lining up. Or, better yet, make a reservation at Alain Ducasse's gastronomic restaurant Le Jules Verne and forego the lines in the VIP elevator
Explore the Marais, the Most Fashionable Neighborhood in Paris
Hands down the best shopping in Paris, the Marais is all that and so much more. Located in the historic 3rd and 4th arrondissements, the Marais's 17th-century hôtel particuliers (private mansions), outstanding museums (Musée de la Chasse et de la Nature, Musée Carnavalet, Musée Picasso, Musée Cognacq-Jay), restaurants, cafés, and cocktail bars, Paris's oldest Jewish quarter, and the lovely Place des Vosges make it an absolute must-see. Wander up the rues Vieille du Temple and Franc Bourgeois, the neighborhood's perpendicular central spines, and discover charming side streets and the quarter's many hidden delights. The Haut Marais, roughly between the rue de Bretagne and République, is the hippest spot for high-end fashion favorites and top concept stores (Merci, Broken Arm, Tom Greyhound, Empreintes).
Wander Magical Market Streets, Including the Rue des Martyrs
Paris's old market streets are often overlooked by visitors busily running from one monument to the next. This is a mistake, since they are an authentic slice of Paris that's not always easy to come by, especially on a short trip. If you visit only one, the Rue des Martyrs, a bustling street heading down from Montmartre, should be it. A neighborhood market for over two hundred years, the older purveyors of everything from fruit to fish share the street with newer, more high-end pastry shops, chocolatiers, gourmet cafés, and chic boutiques, adding to the street's irresistible charm and lively atmosphere. Cobblestoned Rue Cler, in the 7th arrondissement, is another gem, where food shopping and people watching are raised to an art form from the many café terraces. Other not-to-miss streets: Rue Montorgeuil, a last vestige of the old Les Halles with tons of chic boutiques, and Rue Mouffetard, immortalized by Hemingway in his Paris classic A Moveable Feast.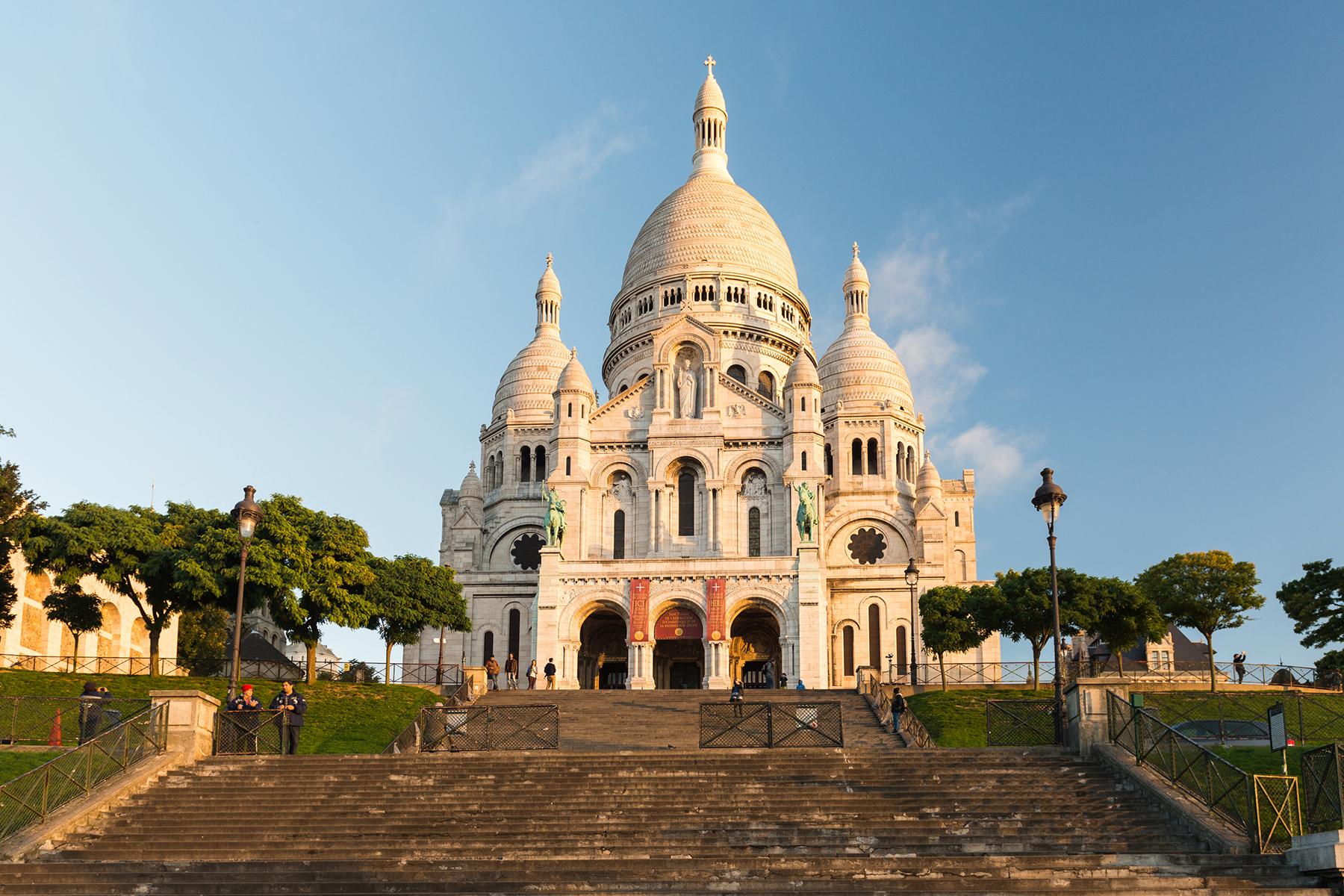 See Paris From the Top of the Basilique du Sacré-Coeur
It's hard to not feel as though you're climbing up to heaven when you visit Sacred Heart Basilica, the white castle in the sky, perched atop Montmartre. The French government commissioned it in 1873 to symbolize the return of self-confidence after the devastating years of the Commune and Franco-Prussian War, and architect Paul Abadie employed elements from Romanesque and Byzantine styles when designing it—a mélange many critics dismissed as gaudy. Construction lasted until World War I, and the church was finally consecrated in 1919.
Stroll the Avenue des Champs-Élysées Like a True Parisian
Make no mistake: the Champs-Élysées, while ceding some of its elegance in recent times, remains the most famous avenue in Paris—and, perhaps, the world. Like New York's Times Square or London's Piccadilly Circus, it is a mecca for travelers and locals alike. Some Parisians complain that fast-food joints and chain stores have cheapened Avenue des Champs-Élysées, but others are more philosophical, noting that there is something here for everyone. Anchoring the Champs is the Arc de Triomphe, Napoléon's monument to himself. At the other end, the exquisitely restored Grand Palais plays host to some of the city's grandest art exhibitions.
Traipse Through the Covered Passages of the Galerie Vivienne and Passage du Grand Cerf
Precursor to the shopping mall, these architectural gems, with glass ceilings, marble details, and mosaic floors, were a place for well-heeled Parisians of the early 19th century to gather under the glow of gaslights in the sheltered warmth of the heated arcade's luxurious shops, restaurants, and cafés. Now the charming vestiges of a bygone era, these beautifully preserved galeries offer a cornucopia of alluring boutiques, bookshops, antiquaires, art galleries, candy shops, and much more. Although there are dozens to see, some of the best include Galerie Vivienne, Passage du Grand Cerf, Passages Joffroy and Verdeau, Passage Molière, and the Cour du Bel Air. At the Passage des Panoramas (1799), the oldest and most charming, Michelin-starred restaurants, wine bars and chic cafés rub elbows with antique stamp and coin shops, while the Passage des Princes, rebuilt after the original's unfortunate demolition in 1985, contains no less than 15 toy shops of every kind.
Paris HOTELS
Go On a Chocolate Crawl in St. Germain des Pres
In the last decade, this most storied of Left Bank neighborhoods has morphed into France's—and the world's—chocolate central. More than 20 world-class chocolatiers inhabit the quartier, each with a signature style. In an afternoon, chocolate lovers can sample the creamiest ganaches, scented truffles, liqueur-filled bonbons, pralines, caramels, covered wafers, and any other chocolaty confection under the sun. Aficionados will appreciate the artistry of chocolate sculptures from Patrick Roger, Jean-Charles Rouchoux, and Michel Chaudun at Maison Chaudun. Other must-visits: Henri Leroux, Jean-Paul Hévin, La Maison du Chocolat, Pierre Marcolini, Franck Kestener, Christian Constant, Jacques Genin, Jean-Paul Hévin, Le Chocolat Alain Ducasse, Christophe Michalak, Pierre Hermé, Chocolaterie Cyril Lignac, Debauve et Gallais, À la Mére de Famille, and Chapon Chocolatier.
Discover Cocktail Culture in the 2nd Arrondissement, the Marais, and Pigalle
Though slow on the uptake, Paris's cocktail scene has surged in the last few years, with an eclectic scene to rival any in the world, mixing ultra-glamorous hotel bars with tiny hidden speakeasies. There's something in every arrondissement, but for an easy cocktail crawl try the newly chic 2nd arrondissement (Night Flight, Mabel, Jeffry's, Experimental Cocktail Club, Lockwood, The Shell); the Marais (Carbón, Candelaria, Mary Celeste, Resistance, Little Red Door); and Pigalle (Dirty Dick, Glass, Maison Souquet, Le Mansart, Le Sans-Souci). High rollers can head to the eye-popping Les Ambassadeurs at the Hôtel Crillon, classy Bar 228 at Le Meurice, or sky-high L'Oiseau Blanc at the Peninsula for stellar views of Paris.
Now in its fourth year, Paris Cocktail Week (held every January) is a great time to explore the scene, with each participating bar featuring a special house cocktail for the event.
Pay Your Respects at Père Lachaise
Of Paris's two main cemeteries, Père Lachaise is the most…dare we say, romantic? This is where Paris's cultural, political, and social history is written in stone, with the elaborate tombs of everyone from Molière to Jim Morrison. Oscar Wilde's tomb, scrubbed and protected from the lipstick kisses of thousands of fans, is a big draw, so are the graves of Edith Piaf, Colette, Gertrude Stein, Proust, Balzac, Chopin…the list goes on.
Famous romantics include Héloïse and Abelard, the star-crossed 12th-century lovers whose remains were reunited by Joséphine Bonaparte. Or the marble effigy of Victor Noir, killed in a duel with Napoleon Bonaparte, with its impressive protuberance rubbed to a silky sheen for its alleged powers of fertility.
The picturesque cemetery's winding cobbled avenues lined with ancient chestnut trees are perfect for a stroll, especially around Toussaint (early November), when fans and relatives place flowers on the graves of their loved ones.
Explore Paris's Under-the-Radar Museums, Including Musée Nissim de Camondo
While the Louvre is a must, the city's small museums—most set in once-private mansions—provide some of Paris's greatest pleasures. Must-sees include the newly refurbished Musée Nissim de Camondo, the exquisite home of an art-loving Parisian banker (with a tragic history), with a chic new café. The Musée de la Vie Romantique, tucked back in a charming garden with a café, in the lovely Nouvelle Athènes neighborhood, and the Musée National Gustave Moreau, the symbolist artist's home and studio, a few blocks away. Our absolute favorite: Musée de la Chasse et de la Nature, a quirky, clever and irreverent mix of period weapons, paintings, and contemporary art. A little-known jewel, the Musée d'Ennery, part of the superb Musée Guimet, contains an extraordinary collection of Chinese and Japanese art and objects collected at the height of Belle Époque Paris's Japonisme craze (by appointment only).
Indulge in the World's Best Pastries at Pain de Sucre and Bontemps
Paris's pastry scene has never been better. While Pierre Hermé remains a benchmark in innovative flavors, there are more skilled pastry makers—many of them bona fide MOFs, Meilleur Ouvrier de France (Best Craftsperson of France)—than you could sample in a month. In the Marais, Pain de Sucre is a perennial favorite; Bontemps, temple to the sablé, a melt-in-your mouth butter cookie, is as charming as they come; and Yann Couvreur's Paris Brest is a standout. Superstar Cyril Lignac has several sweets boutiques around town, but we love the rue Paul Bert shop, across from his café dedicated to chocolate. Jean-Paul Hévin's creations never disappoint, and whatever you do don't miss Du Pain et des Idées for their extraordinary viennoiserie (try the amazing sacristan, a perfectly crisp chausson aux pommes, and the orange-blossom inflected mouna bread). Teatime at the Hôtel Meurice is a spectacular splurge with pastries by Cédric Grolet, widely considered the best pastry chef in Paris, or the Ritz's all-sweet version, served in the cozy salon Proust, is as elegant as they come.
Be Surrounded by Greenery at the Jardin des Plantes
Paris's first botanic garden—founded by Louis VIII in 1626 for medicinal plants and exotic specimens from afar—its shaded paths, arbors, and flower beds are beloved of joggers, lovers, and strollers. A historic treasure trove, the gardens contain Paris's oldest zoo (Ménagerie du Jardin des Plantes), three soaring Belle Époque greenhouses, the Galerie de Minéralogie et de Géologie, the newly renovated Galerie de Paléontologie, and the extraordinary Muséum Nationale d'Histoire Naturelle and its famous Gallery of Evolution. There's also a fantasy carousel for kids and plenty of shaded benches for picnics or just watching the world go by. Afterwards, stop into Paris's central mosque, the Grande Mosquée de Paris, for a pastry and sweet mint tea on its colorful mosaic terraces.
SUBSCRIBE NOW!
Receive weekly recommendations right in your inbox.
  We will not share your details with any 3rd party.